FEEDBACK (See yearly "BEST OF" feedback winners >>>) and a really moving video feedback from a painting recipient >>>
April 2008 Smile Japan Picture >>>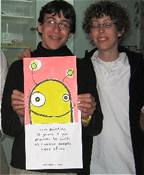 April 2008: Resting on a large boulder on Atlanta's Clifton Road, between the U.S. Centers for Disease Control and Prevention (CDC) and the fire station, and across from Children's Healthcare of Atlanta and the Rollins School of Public Health of Emory University, I spied it. An illogical generosity of spirit. The bright painting of a colorful, happy, whimsical creature. And, taped to its lower edge, a note bearing the message.The proposition intrigued me. I loved the painting, the message, and the random way in which I had come upon it. (I could have taken the bus instead of walking that Sunday morning to Emory's Cannon Chapel ecumenical, open worship to hear Bishop Jones preach the sermon on The Ministers' Manifesto. Or, my passing the boulder could have been too late. Or too early.) Yet I was suspicious. Who gives away such loveliness? And merely for the price of a promise to smile at random people more often? More self-tormenting questions: Who would check my faithfulness to hold up my side of the bargain? Shouldn't the find go to someone else... more deserving... a child? Yet I wanted it. How could I reconcile my doubts and take up the offer? Within seconds, I had formulated my plan. I glanced around hoping no one was watching. And then I took it. Tamar (visit her blog about her Smile Georgia experience >>>)April 2008 More Smile Zurich >>>

April 2008 Smile Painting Recipient March 2008: heey bren! yess, i found one!:D at the bahnhofstrasse in zurich with my girlfirend...probably around 13.00 pm, today. i wondering, how long it was been there? really great art, really great idea! thanks for the nice picture, it seems to make me smile:D unfurtunately you wasn't there, so you couldn't take a picture of us how hard we were smiling, haha. Kind regard, IHF Smile Zurich March 2008 Smile Zurich >>>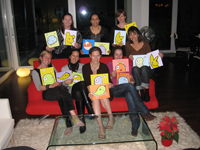 March 2008 Smile U.A.E. >>>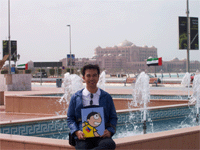 February 2008: Smile Georgia pictures >>>
February 2008: Smile Boston Project 2007 Feedback winners >>>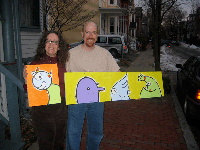 January 2008: I have several paintings in my room, but none of them have a
story behind them; this one has an experience I will not forget and I
love talking about it! >>>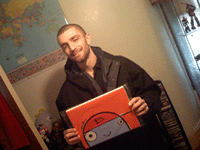 January 2008 Blog Entry >>>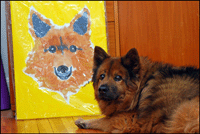 December 2007: Smile Rochester, NYC >>>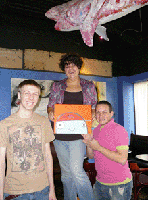 December 2007: The picture calms him! Every time he cries and when all else fails to calm him...we put him in front of the picture and he just stops, stares at all the colors, and SMILES! Smile California recipient >>>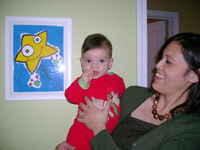 December 2007: Erik just wrote a poem about Smile Boston Project:on the street i encountered a man selling bright paintings.his art dripped joy, and i cupped my hands beneath a canvasand drank.
'how long have you painted as you do?' 'all my life,' he said.'how long on this one painting?''all my life,' he said.
November 2007: While clutching the artwork on my left hand, I was wearing an unusual smile as I brazenly maneuvered through the familiar clogged arteries of Makati. See the first video feedback >>> Mark, Smile Philippines 07 painting recipient >>>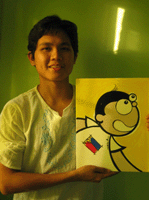 November 2007: Photos from a Peace Corpse volunteer in the Philippines will be posted soon
Smile San Francisco 2007: Your painting is hanging proudly close to me since it highlights my day--smiling, wide eye, my antennas up for new and creative ideas, and the bright colors give me the energy to focus or just reflecting. Thanks very much for sharing your project with me. I know you're contributions in Boston, though small, has a tremendously huge impact on the Bostonians and among the Filipino Americans nationwide. Please keep up the great work!!! General Taguba >>>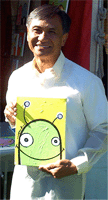 More Smile Italy Painting Recipients The last days in Vencie were fun though the weather was supposedly the hottest it had been so far this summer. We just had to drink plenty of fluids to keep hydrated. I have checked out your web site - you have really been busy going all over the world. What great fun! Patty and Elizabeth >>>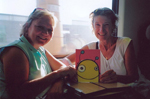 October 2007 More Smile Boston Project Painting Recipients >>>
September 2007 4th Year Anniversary Painting Recipients >>>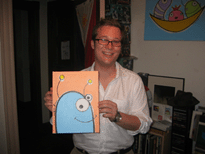 September 2007 We wanted to write to you and tell you yet another tale involving your painting, specifically the bride and groom painting. All of our friends and family have heard the story of how we found the painting, the SMILE Boston project, and the other assorted craziness concerning this story. Well, everyone is now associating our upcomingwedding with your painting...so much so that when we arrived at our wedding shower we saw this hanging in front of the house. Then we go into our friends' house and found a framed printout of the email Amy originally wrote to you, along with the Boston Globe article. So we cut the cake and boy is your painting delicious. At the end of the night, all of our shower guests signed the banner as a keepsake for us. Very sweet. On a separate note, our friend Roxanne (one of Amy's bridesmaids) doctored up these Barbies as gifts for us at the shower.You can see yet another version of your painting in the Barbie Amy package. Amy and Tom >>>

Smile Peaks Island >>>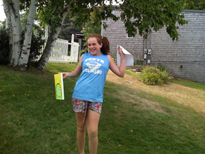 Smile Woods Hole >>>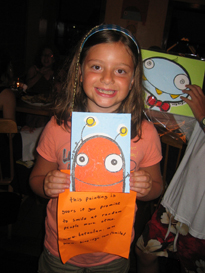 Smile Italy Recipient 2007 We hauled the little guy around in our backpacks for another month and he is now on our wall at home in Santa Barbara, CA. I've attached a couple photos of his trip to the Italian Alps Jayna >>>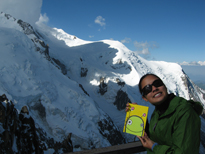 Smile Italy Recipient July 2007 I have to say to that I was impressed by your smile project which I saw in your webpage. Hopefully, your work will reach more people who can bring their smiles to others who have been deprived of human friendship because of war and violence. Eric >>>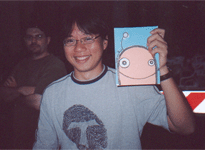 Smile Italy (Bren leaving paintings) >>>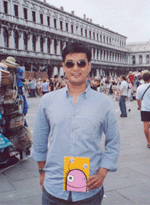 Smile Spain June 2007 >>>
Smile Smile Puerto Rico May 2007 >>>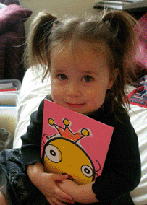 Smile California April 2007 >>>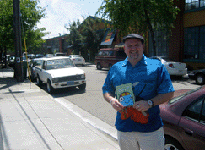 April 2007: I wanted to let you know that I am one of the lucky finders of your amazing artwork!! On December 23rd - two days before Christmas - I started my holiday shopping. I live in Boston and without a doubt hit up almost every store on Charles Street, Boylston Street and Newbury Street. I had so many packages and bags I could barely walk...but it had been a great day - I really enjoy hunting for that "perfect gift". So there I was, walking down Newbury Street, with my arms full when all of a sudden I spotted one of your paintings on a bench. I was alone but immediatley started saying out loud "do you know what that is, do you guys know what that is". I will back track a moment - I was familiar with your work because I had attended a live auction at the Lynn Arts Association about seven or eight months before that day...and one of the items being auctioned off was your painting of the little guy with the "B" hat...I was so inspired by the message of your work - I must have told the story a million times after that night. So, as you can imagine, I was beside myself to see one of your paintings just sitting there - waiting for me! I told the story to everyone around me who would listen, and with a little hesitation - because it was just too good to be true - I picked up the painting and smiled at everyone that I passed on the street. I called my dad and a bunch of my friends and I was smiling so much as I told them the story that they could barely understand what I was saying. I keep my painting in my office at work and look at it everyday and smile - people stop by all the time and tell me how cheerful my office. Some people have suggested that it was a set-up and that I found it because I smile so much already that you must have somehow known that I would keep smiling! I took a picture of my painting with my phone and sent it to my friends...many have passed it on to people I don't even know....it's become our way to "pay it forward'. Jennifer (see photo below) >>>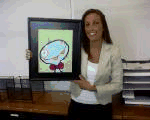 Smile Antarctica 4.2007 >>>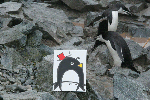 Smile Antarctica March 2007: I have returned from a fabulous journey to penguinland! I consulted with my tablemates during the cruise in Antarctica how best to orchestrate "the manuever". What worked the best with so many countries possible to receive this gem, was to place it on the ship in Antarctica, not technically on the land of Antarctica (which I had said was not possible). I hope this follows your wishes; I snuck down after midnight and placed it by a portal outside the dining room (as illustrated), took the picture and let serendipity do the rest. The next morning on the way in to breakfast, it was nowhere to be seen. I am hoping you get an email identifying the recipient; know that many different nationalities are in the mix...Argentinian, Ukrainian, French, Scottish, Dutch, German, Canadian, Australian, New Zealander and of course, American. I am sure there are smiles being delivered...we were all smiles the whole cruise because it was so incredible! A boat full of women created magical weather for the calmest round trip through the Drake Passage this season, successful landings of 10 zodiac excursions and just an overall great time for all!The group I hung around with (my consultants) loved your work and your idea. It was fun to do! All the best, Fran >>>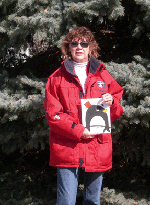 Smile Israel February 2007: "I brought two smile paintings with me to Israel when I was the staff for a Birthright Israel trip. Birthright Israel is a free 10 day trip for people between the ages of 18-26 who are Jewish and have never visited Israel on an organized tour. There were 40 participants from the U.S. and 8 soldiers from Israel on the trip. I introduced the idea of the paintings to the group and they were really excited about it. We decided that we wanted to leave them in places where Israelis would find them and not necessarily tourists. We decided to leave one in Tel Aviv, Eilat, and at the Holocaust Memorial in Jerusalem.
In Tel Aviv we did it on Shabbat, the Sabbath. Everyone was out on the beach and promenade relaxing for this day. We all gathered around the painting that we left by a tree, and then walked away and waited to see what would happen. An old couple came and took it. We took a picture of the gentleman who picked it up.
Eilat is Israel's beach resort on the border with Egypt. We left it outside of a mall, by a restaurant. We didn't wait to see who would take it but it was not there when we went back later.
Outside of the Holocaust Memorial we left the painting on the plaza. A woman had heard us talking about the paintings and said that she wanted it. So we still left it on the ground and she came to pick it up. She was a bus driver of another trip.
It was really great to do this project with Birthright because this trip a gift to us by the state of Israel. They host thousands of people for free in this beautiful country and Smile Israel is a way of giving back. The other day one of my participants told me that she opened her fortune cookie and inside it said "A day without smiling is a day wasted." She immediately thought of Smile Israel and how smiling does a world of good." Liana >>>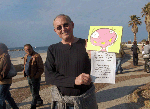 January 2007: Smile London >>>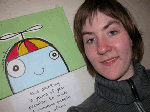 January 2007: Painting recipients >>>
December 2006 Painting recipients >>>
November 2006 See where I left the Third Year Anniversary Paintings >>>
November 2006 See most recent Third Year Anniversary Paintings recipients >>>
October 2006 Thank you, thank you, thank you. I can't say that enough. I love your work. I have been admiring it for years, since I first saw it at Christopher's in Porter. I go to the website at least once a month, read about the smile project, and send the site to everyone I think might enjoy it. I met you at MayFair in Harvard Square last year, and have your handmade business card hanging on my magnetic board. Friends have taken pictures of your paintings and sent them to me. I took a picture of this painting at Gulu-Gulu and set it as my cell phone wallpaper. I call him the cell phone alien because when I saw the painting, I could hear him frantically saying, 'Hey! Hey! You forgot your cell phone! Don't forget your cell phone! Hey! Hey! Buddy, your cell phone! Hey!! Hey!!!' I chuckled for -days- about that, and I chuckle every time I open my cell phone and see him. I know the people I was having dinner with at Gulu thought I was bonkers. Since Tom and I got engaged this past August, we have been staring at the ridiculously happy bride and groom painting, thinking how fantastic that would be at our wedding, setting the tone for the event and being indicative of the life we want together - fun & joyful, humorous & lighthearted & sweet. Because we're getting married in an art center, we also wanted to display our own "exhibit" at the venue - not only the usual photos of us and our families and friends, but also paintings, sculpture & drawings of things we like and created by folks we love. I had an appointment at 2pm today in Harvard Square. I left work at ten till, walked out the back of Holyoke Center, down Mt. Auburn and crossed at JFK street. As I'm walking by Peet's, I see a painting sitting on the bench in the park and I immediately veer to my left. It's the bride and groom, with the official "Smile" note attached. There's a gentleman sitting next to the painting and he says, 'it's not mine. It's yours if you want it." I had found a Smile Boston painting. Not only that, I had found the Smile Boston painting we had wanted to display together at our wedding. Counter-intuitively, I started to cry. (Smile Boston, Cry Boston, you know, whatever). Tom & I have our very own little bride & groom aliens. I took the painting and immediately called Tom and we had a moment over the phone, me shaking and crying and Tom in absolute disbelief. The painting is right now propped up on the file folders next to me at work, with those two beautiful weird creatures smiling at one another. I can't wait to find a place at home to proudly display them. Thank you. I'll send a picture of Tom & I and our new friends the bride & groom aliens soon >>>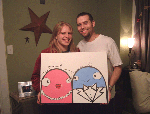 Smile Tibet 2006 >>>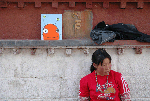 October 2006 This is my painting hung up in my room. I just want to say I am and will continue to be a fan of your art. Your giving spirit really brings everyone to another level. You cannot talk about your art without telling people about how you give and give and give, only demanding in return smiles and happiness. Like I told you, I've seen your artwork around Boston for the last 3 years, as long as I've been in Boston, and have always been intrigued by its simplicity and fun. So, I thank you so very much for your gift to me, and even though there was no note asking me to smile more, I definitely will. Thank you again with all my heart, Carl >>>
September 2006 painting recipient >>>
Another September 2006 painting recipient >>>
August 2006 is Smile Tibet >>> and Boston (in association with the Cloud Foundation) Month >>>
Smile Hawaii 2006 Painting Recipients >>>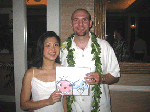 Smile Hawaii 2006 Photos >>>
Smile Korea 2006 >>>
Smile Honduras: Our trip was really successful. We were able to work with one of the villages there to help them significantly improve their water system. We also collected a lot of engineering data at another village that currently has no water system, so the students can start the design work and fundraising needed to help them on the next trip. During most of the trip, we stayed at a bunkhouse attached to a medical clinic created about 15 years ago by a Dartmouth group called Americans Caring Teaching & Sharing (ACTS). I hung one of your paintings in the clinic to brighten the the place a bit. The clinic is great -- our engineering team traveled down there with a doctor and a few medical students who were working in the clinic, seeing patients from all the surrounding villages. The last night before we left, we stayed in the city of San Pedro Sula, where I placed the other four paintings. I put two in our hotel, one on a bench (that painting disappeared within a few hours) and one in a drawer in our room. The next morning we were running late to the airport, so I placed the remaining two on a storefront window. They were all accompanied by Spanish translations of your standard text.
Dan from Engineers Without Borders (see photos) >>>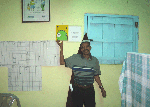 One winter afternoon I was walking through Holyoke Center in Harvard Square after coming from the doctor's office and realizing that I was going to have to take a leave from my job at the university.  I was crying and nothing that my sister seemed to say to me was giving me any solace.  As I was walking by one of the benches I saw someone smiling at me.  I smiled and kept walking in a daze.  As I was about to exit out of the door, I unhitched my arm from my sister and turned around and started walking towards the bench without saying anything to her - something was pulling me back.  It was what had made me smile and what had caught my attention from the corner of my eye.  It was the green finger-smiling-good mood maker-alien cartoon.  There he was sitting on a bench waiting for me.  I couldn't believe it.  He had the whole bench to himself and the center was packed with people milling about.  Attached to him was the note 'This painting is yours if you promise to smile at people more often'.  I stopped my crying and started laughing.  I swear to God that this meeting gave me something that I hadn't felt in months - lightness and I know this sounds cheezy but hope.  It felt like a sign or something.  And it broke my darkness.  Even my sister was laughing - kind of uncontrollably.  It was the best mood maker and as we left with it, it seemed to give us the lift we needed or sent out some sort of vibe to other people around us because we met like 3 awesome dogs that night, a bunch of super nice people, and kind of kept running into random good energy 'stuff'.  I kept it in my bedroom for six months.  I'm in a much better place now and felt like it was time for him to work his magic on someone else.  My friend just had a baby.  They named her Nelly but her real name is Prunella - the poor thing - she needed some magic.  So now its in her baby room.  And I told her older sister Bernadine (I know, I don't know why they are obsessed with naming their kids with these names that belong to great-Aunts) who is five now that when she wanted to she could take out the painting - which still has the sign taped to it - and put it in some random place in Jamaica Plain for someone else to pick up.  She liked that idea. Catherine >>>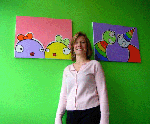 Hello!!! Liz here. I just got your lovely picture today (Similar to #28)!!! It was on a bench inside the George Sherman Union at Boston University. I had walked past the bench after my lunch alone while listening to the Barenaked Ladie... I saw it and thought it was adorable... I loved it. It was kinda weird, I looked at it, read the little sign attached to it and kinda just stood there for a minute... just staring at it. And then I decided to take it. It was kinda there, just staring at me, wanting me to take it, so I did. And I have been smiling to people more. It was great, and I will continue to smile. Thank you so much for this. And if you would ever like my help with spreading the smiles, I would love to help. I go to Boston University up here, but I live in Connecticut, near New Haven, so if you¹d like some help down there, I can do it! Thank you again!!   Happy Day, Liz >>>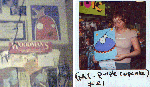 I would've written earlier... but I was busy smiling at everyone! I'm leaving my office last week and I see this painting and instantly recognized its style. The note read 'You can have this painting if you promise to smile at random people more often'. I thought that was cute and figured since I do that anyway, maybe I'm not a worthy recipient. But I also thought that my daughter would love it (even thought it was not pink but blue). We had seen these paintings before hanging in Christopher's. So I start to leave and I see a coworker come out and she sees the painting and starts smiling. So I backtracked and explained to Jean what I knew about these paintings and the artist. She says "Mike. You smile at people all the time. Take it." I chuckled and ended up bringing the painting home with me. I called my daughter that night to tell her I had a present for her. Thank you! Mike >>>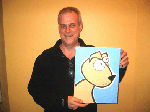 Dear Bren, i met you today in Harvard Square while i was walking to Au Bon Pain to buy some lunch.  On my way i passed an adorable painting which is for refrence purposes #19. i read the sign below it, and i am now vowing to smile more at strangers and at people in general. i saw the painting which reminded me of those cute little glow worms from my childhood and smiled. i have been trying to find art for my new apartment; i am also very picky.  i think your request to smile more brightened up this past month & i now have something to hang on my walls that didn't cost me an arm and a leg. i don't smile that much except for those half smiles to ease social situations but this painting led me to a genuine smile, and a few hours later i am still smiling. i would very much like to show everyone on your site what is now a treasure to me but i don't have a digital camera.  i just want to say thank you for creating this project that has made my day and led me to smile.  It shows true altruism for those who don't get to smile enough (like myself) and i'm planning to hang it over the table where i keep my most prized possesions & smile at it and smile outside and remember how much you brightened my day. Your extremely grateful fan, Sara (one of the Smile Boston Project recipient during the channel 5 Chronicle filming, 8.31.2004) >>>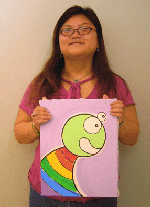 I saw Guster right away and I knew I should pick him up. It was the oddest coincidence that I found him that day, actually. I had gone to get a haircut with my friend (for moral support--haircuts scare me) and I was on the T with her on our way to MIT where we work. She was trying to cheer me up (because I had gotten a REALLY terrible haircut) and she told me that she had heard of Project Smile and that people were finding paintings for free if they promised to smile more often. When I got off the T and walked to my building, there he was! I picked him up immediately because I knew that was what I should do. The story of the painting and Guster himself distracted everyone at work from my terrible haircut, and I've been smiling at random people ever since(my hair is pretty much back to normal now). But seriously, sarcasm aside, this is an amazing project and a great reminder that little things like random friendliness really do spread and grow. I hope this project helps to lift Boston's personality out of the 'cold New England' category! Anupama >>>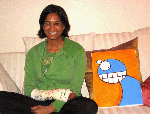 I was hurriedly returning to my job after my 45 min lunch break one afternoon and I passed a park bench. There was a painting propped up against it's back and a sign proclaiming the painting was free with the condition I smile more at random people. I looked at it for a moment and proceeded walking. It wasn't that I wasn't up to the challenge of smiling more, I guess I just hesitated. Maybe for whatever reason I didn't feel deserving, like it wasn't meant for me. I crossed the street and as I was approaching my building of employment I stopped again. I thought to myself, "you know what, I really like that painting," It was calling me back. I came back to work with a canvas under my arm and a large visible grin. The idea is so simplistic but it's message is powerful. Smiling is such an incredibly effective tool and you'd be surprised how it can turn someone's day around in an instant. Ryan >>>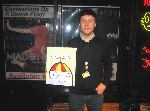 I was wandering through Harvard Square on a cold morning and I saw this cute little guy sitting on a concrete step all alone. I honed in on it and was excited because I had read about your project in the paper a few weeks before. But it seemed a little weird because I was surprised no one had taken it yet. So, I read the note attached, decideded I would indeed smile more, swiped it, and took off at a quick pace. About a block away this dude chased me down and I was like great, I think I just stole this thing. But it turned out he was a producer doing a news program about you and he wanted me to be on camera. It worked out great, because I had just opened my own store in Harvard Square called Proletariat, and I got to mention that on tv. Then I hung the painting in my store and people came in who had seen me and the painting on tv. Since then my wife has made me keep the painting in our house because it really livens up the place. This painting walked into my life at the perfect time. Thanks again. Kerry >>>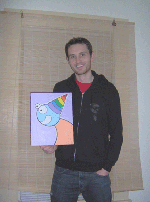 May 2006: Painting recipients >>>
Smile Wisconsin >>>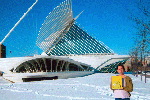 Spring 2006 Painting Recipients >>>
Smile U.K. >>>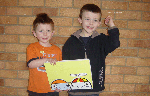 Smile Guatemala Pictures >>>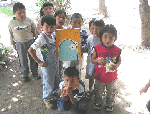 February 2006: Smile Philippines >>>
March 2006: Painting recipients >>>
New Smile Alaska picture >>>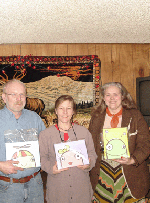 December 2005: Smile San Francisco Project >>>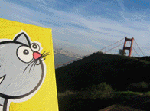 Just e-mailing to say hello and to let you know that I'm still smiling from finding your wonderful painting.  Being interviewed was fun, but what I remember the most is finding the painting (and immediately knowing what it was there for) and having the wonderful opportunity to meet you.  I've been making that extra effort to smile at people and say hello and many people say hello right back.  Some are surprized and say hello, others look pleased, and there are those few (and far between thank goodness) who just ignore me. Again, thank you so much for taking the time to do what you do and for painting your happy, wonderful art.  The painting is sitting in my office up against my window where I can see it and it makes me (and everyone else who sees it) smile and laugh.  If there were more people like you this world would be a better place. Peggy (one of the Smile Boston Project recipient during the channel 5 Chronicle filming, 8.31.2004) >>>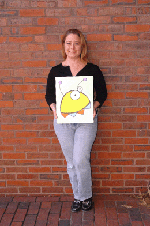 December 2005: One day, I was walking with a friend through the tiny park in the middle of Harvard Square.  Walking down one of the pathways, we passed a bench.  The bench was occupied, but not by people, and not by pigeons.  On the bench were paintings and with the paintings was a note that read:  "Please take one if you promise to smile more at random strangers". I glanced at the note and paintings in disbelief because: 1, the paintings were really cute and I couldn't believe someone was giving them away, and 2, the paintings were really cute and I couldn't believe someone was giving them away with the only payment being to smile more.  I almost walked out of the park before I turned to my friend Jude and asked if she what she thought about the paintings and note on the bench.  She actually didn't see it (she was walking on the opposite side), so we walked back to the bench.  I looked around, looking for the culprit, while Jude read the note.  Then she said, "Why not take one?  I know you'll smile at random strangers."  I said I would.  And with a big big smile spreading over my face, I reached down and took one of the paintings.  With the painting in my hands, I raised my fist to the sky and let up a big "WOOHOO!". Not only have I kept smiling at random strangers, but I also gave the painting to my best friend Sara, and she has promised to smile too. Kimmee, 2-year Smile Boston Project painting recipient >>>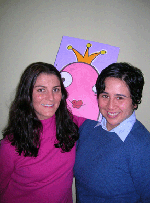 Picked up one of your paintings from a park bench in Providence while walking my dog.  I plan to hang it in a computer lab at the college where I teach.  Students need to smile too. Doc. Smile Providence, RI >>>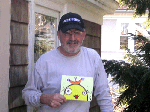 November 2005: More 2-year Smile Boston Project painting recipient >>>
Smile Keene, NH: I photographed one of your paintings in the Student Center at Keene State College here in southwestern New Hampshire.  You can see & read about it toward the end of this blog post: >>> or a screen shot of her blog >>>
LorianneNovember 2005: Smile Keene, New Hampshire photos >>>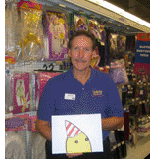 Smile Las Vegas: Hello! I wanted to leave feedback for you, my name is Rachel and I found the picture of the boy w/ yellow background at the West Sahara Library in Las Vegas. I had just dropped my daughter off at kindergarten and was returning our books when I saw the painting. I smiled as I passed and thought "what a cute and fun painting!". I noticed the note and went back to read it. I thought maybe it was a joke, I turned and looked around to see if anyone was watching me. I turned back and was going to go into the library, I figured someone else would grab it, maybe they needed to smile more than I did. But then I turned back, grabbed the cute painting and the note and entered the library. I wanted to make sure this was for real! I showed the librarian and she wasn't aware that it had been left and encouraged me to take it. I am so gald I did because I love it, it is such a fun care free picture, it reminds me of being a child again. As soon as I picked up my daughter I showed her, she thought it was awesome and took it for herself. But I made her promise that she has to smile at people more often:)!    In a city like Las Vegas, where the residents are trained to not look each other in the eye and to avoid any interaction, this painting and your movement is much needed. Now everytime I'm out I find myself thinking of the paiting and the promise I made and I make a pointed effort to keep my word. Because really, isn't that all we've got?!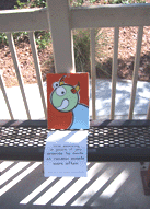 October 6, 2005: I found one of your paintings laying on a picnic table at Hudson Beach in Florida, it is a delightful little picture that I will cherish for many years to come, though it is simple I smile when I just think about it . I am 64 years old  and like to smile and love people so I will try to smile at people more often. Thank you for making my day a little brighter,    Sandy (Port Richey, FL) >>>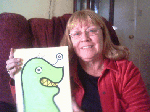 October 2005: Smile Florida photos >>>
October 2005: Smile Miami, Florida >>>
Ocotber 2005 (Second year anniversary Smile Boston Project): Hi - my name is steffi from Germany and I found one of you pictures in front of a café in Harvard Square, Cambridge, some weeks ago. I didn´t take it with me because I already had so much to carry but I started smiling nevertheless :-) This is such a wonderful idea and I just wanted to tell you that I really, really like the picture and the idea in general as well. I wish you good luck for whatever project you´ll do in the future! Greetings from Germany! Bye- Steffi
October 2005: Second year anniversary Smile Boston Project Painting recipients >>>
September 2005 The picture is proudly hanging in my kids playroom and draws smiles each time we look at it. Please, continue your work, which brings happiness to all that get a chance to see it. Patrick >>>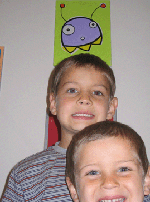 September 2005 Smile Guatemala >>>
September 2005 : Smile Bangor, ME >>>
August 2005 : Smile Las Vegas >>>
Smile Sri Lanka >>>
Smile Philippines painting recipient >>>
Smile Alaska Project painting recipient >>>
July 2005 A recent Smile Boston Project painting recipient, June 2005 >>>
See the Smile Button Project recipients pictures >>> Smile Button Project feedback >>>
May 2005 They love the painting. Graham and Gilly make their happy monster faces. I was trying to get them to imitate the painting. Gilly is just smiling like she does in all the pics of her.David. May 2005. See picture >>>
Thank you so very much for the wonderful whimsical painting. It makes me smile whenever I look at it.Katy. Smile NYC. March 2005
I just moved to Boston this fall to get my masters in Arts Management and it was a huge decision for me. One Thursday night I was walking around the south end with a friend and I looked down and on a stone wall saw this colorful painting. For a while we wondered what the painting was doing there then we started laughing and being goofy looking around for hidden cameras. Then we decided that it was for real and that I should take the painting home with me. The experience was incredible. I felt picked out, I felt lucky. And all of a sudden there was this incredible joy. In school we had been studying public art projects and it seemed as though everything was coming together. I did start smiling more at random people, because I felt like I had a duty to do. Thank you for implementing this project and thank you for bringing joy to my life. If we all are able to hold onto this joy then Boston will surely see a lot more smiles. Smiles! Kaity >>> (Katherine Macy's, Boston University's graduate program of Arts Administration, paper about Free Art (my work is one of the paper's topic) Download Word file >>>)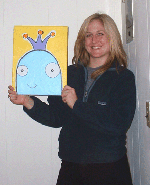 I shared your link with my students today. Instant kid appeal!  They enjoyed the characters very much.  We read the message that you include with your paintings and some of the messages written by the people who found the paintings. The whole project really intrigued kids. I asked one of my students in third grade to write a note to you. I've included it below:Dear Mr. Bataclan, I think the "Smiles Boston" project was a great idea!  I think that if one person smiles at another person, it would spread throughout the whole state (and hopefully the whole world!)  You are a very talented artist and I am glad that you thought of it.  You sound like a very nice person.  I hope you keep doing this!  Keep up the good work! From, AmandaLorraine >>>
... I have a dear dear friend who came for a visit yesterday. She's had a tough life and a tougher year with the loss of her beloved grandmother who raised her and physical challenges that can leave her isolated at home. We showed her your website. At first she was saying how cute the paintings were, and she was giggling at them, and really loved a cute purple girl monster similar to mine, but as I started to read some of the responses out loud to her, she began to cry!... Your reaching out to spread humanity among a city of busy and overly occupied people touched her deeply. I think simultaneously you touched more than one nerve in her and she was overwhelmed with the idea of being so unconditionally joyful at a time when she's battling grief. Anonymous, in referrence to painting #2
Hi I found a painting @ Back Bay Station, a green thumb type paintying with a smiley Face... I was in a really bad mood and in lots of pain. After finding this painting, I began to feel better and realized that it really doesn't take a whole lot of strength and energy to just smile at people. I also noticed that when you smile at people they either think you are crazy or they tend to smile back--either way I get the positive attention that I need.... Thanks for the little light at the end of the tunnel. Andre
A couple of weeks back we were visiting Ricco's apartment and I spotted the painting you gave him. He gave me the painting and it now sits proudly in my living room (I am an avid collector of filipino-americaniana). The Pinoy xmas party was at our house and, guess what, everyone was smiling at your work! Maraming, maraming salamat for the joy you have given my family and guests. Sonny Siasoco
Dear Mr. Monster painter, Let me start off by saying... Thank you, Thank you, Thank YOU! My Boyfriend found one of your paintings on one of his many walks around Boston. He has a habit of bringing things home. This day I was surprised to see what he brought. He said he almost left the picture there, and as he got closer he saw your lovely note. The painting I have is #21 that I loving call "Purple Cupcake." He is hanging in my room, but he has been hung all over the house. I'm stoked that I own one and I just wanted to write to you and let know that #21 is living in Allston Rock City, MA. I'm glad that this project is ongoing and going global! I truly, truly, truly thank you! Michelle =) Painting #21 >>>
Hello, my name is Martina. I found a print of one of your paintings, at Central SQ, redline stop. I was wearily making my way home on this stark winter's day when I saw it. At first, I wasn't sure whether or not to pick it up (I usually try not to touch anything I see lying around, being a street savvy New Englander).  But, as I took a closer look, the day's accumulation of despair melted away... Finding this happy, smiling picture reminded me that there's still a lot of goodness about. Something like this is exactly what we need in this world. It may not seem much to a snotty cynic, but that one picture made my day, and maybe my resulting smile will make someone else's...and so on and so on! Thank you so much and keep it up! Martina (from the February 2004 paintings/prints series)
I wanted to thank YOU for being a catalyst in reminding people of something so simple we forget to do and the power of how far a smile will go.Rosemary, from the puzzle painting event at Christopher's
Your work continues to evolve in all sorts of incredible ways.  I loved the puzzle paintings.  And the whole concept of them in general--it seems all about bringing unexpected people together in unexpected ways, very much a Smile Boston idea.Mako, from the puzzle painting event at Christopher's
What a wonderful event. The new paintings are delightful as ever. You light up a lot of lives including ours, thanks! Michael, from the puzzle painting event at Christopher's
We had a great time at the Christopher's event, enjoyed meeting the other puzzle folks.Charlotte, from the puzzle painting event at Christopher's
I wanted to let you know how much I appreciate the t-shirt... What a fun and happy thing to wear on summer Saturdays! ElizabethLove the shirt!BrianI'll take an appropriate Djibouti picture, send it to you, and leave the painting either at the boys orphanage or maybe have the Mayor include it in a Djibouti project.  Mine is now upside down in my office; my French colleague likes it .... I could also take it to France, Germany, and then Iraq ... and treat it like a Flat Bob (the kids adventure character that gets photographed all over the world, or like Amelie's dad's Gnome). First Smile International FeedbackOne of the Smile Boston paintings, similar to #30 but with an orange guy on a blue background, was recently left in front of (or behind, depending on your point of view) Holyoke Center in Harvard Square.  I'd recently read an article about the Smile Boston Project (in Boston Magazine?) and immediately recognized what I had found in the happy little orange guy with the big smile. The orange dude now smiles upon the denizens of Harvard's Office for Technology and Trademark Licensing, a happy addition to a (usually) happy group.  Putting the painting in the office means that many more people who are ready to smile all the more, even during the February chills. Many thanks for the painting and all the more for the happy effort of the Smile Boston Project.  :D - Jeremy (from the February 2004 paintings/prints series)While walking to the hardware store, I was greeted by your delightful painting (#29) and as I smiled my way through my errands I moved fast with the hope that it would be waiting for me when I returned. I feel very fortunate that I did secure it. At the moment it is on a wall in the common area of my building, I plan to frame it, perhaps with a simple black or white frame? Sorry I can't e-mail you a picture, I haven't a proper camera. Many thanks for the delightful painting, hope to see one of your exhibits soon. Mary >>> Painting #8 was brought to me by the branch manager of the Wainwright Bank at 63 Franklin Street in the Boston Financial District. A customer had found it leaning against an ATM in the outer lobby and had brought it in to her. She delivered it to me because, as the marketing director and an art lover, she thought I'd enjoy it -- which I do! Considering it was originally "released" at the Children's Museum down at 4 Points Channel, I would be fascinated to know how it ended up at the bank. But regardless, after visiting your wonderful website I've decided not to keep the painting and to pass it along by leaving it in some location I've yet to decide on, with the note attached of course. Cool project!  Steven F. YoungI saw the painting (#10) that you left on the bench in the South Station Red Line (Alewife side.) It was about 2:10 p.m. this afternoon (10/7/2003). There were only a few people in the station, none up at the far end where the painting was. I usually ride in the first car because I get off at Downtown Crossing and switch to the Orange Line to go to Malden. As I walked along the platform, it caught my eye and I went over to take a closer look. I read your note and I smiled. I picked it up and I _almost_ took it. I did think it was a little weird (the project, not the painting!) but I decided that I would leave the painting for someone else to enjoy. I noted your website and decided I would drop you a note. Just the fact that someone is trying to make life nicer was enough to lift my spirits! Thank you for making my day brighter. Best of luck with your project! Cheers, Mike Cronin I am a student at Cambridge College and guess what i came across...#22! I had seen the painting there for a few weeks hanging on the wall.  However, i didn't see the note attached (it was folded up). Whenever i passed i would giggle all the way into class.  It seemed so random to see at this college. Then one day on a break i was standing near it and saw the note.  My friend and i were like... does that mean i can take this picture OFF THE WALL and bring it home with me? Let me tell you, I was so excited, I carried it around the rest of the night introducing it to everyone. I have it hanging in my bathroom next to the mirror. It is very inspirational to me. I look at the goofy face in the morning and remind myself smile.  I am currently working 2 jobs and finishing up a masters and smiling has been a little harder than it used to be. I am also new to this area and have seriously noticed the lack of friendliness towards strangers. In Cincinnati it is very common to hold a door for others, ask how strangers are doing and especially smile at randoms. Last year, I moved to Rhode Island to do a year of service for americorps. since then have been feeling very overwhelmed and feeling like I can't make a difference. But I am wrong, it is the simple things like smiling that can make a small difference with some of the kids that i work with. Your painting reminds me that everyday. I admire what you are doing with this project. Keep it up. It is funny how things find you in a time of need. I will pass it on when I find someone else that needs a smile! Allison, painting #22 ... in this day and age when there is less and less genuine and unpretentious interaction between people, your project brings out the friendly human nature. The paintings are in such vibrant and bright colors, and the characters are very cartoonish. They make me feel like back in childhood again. The message is very inspirational because it simply asks for a little unconditional love to share the joy. And if everyone can just for one minute feel that kind of connection, the world would be a much better place. Albert Hwa, in referrence to painting#25...I brought her home (painting #19) with me to show my family and walked in the door with her face first. Everyone broke out in a grin that matched my smiley painting. I cannot wait to name her! I think that I might ask for suggestions from my customers, but I have a feeling that she will be telling me what she wants to be called before that happens! I intuitively choose names for pets this way.... And I just got off your website, it is so uplifting to see the paintings and now that the comments are there, it's much more fun. I had a little adrenalin rush as I saw the face of MY number 19 cutie pop up! I am sure she will continue to delight me and my customers as she looks on to everyone that stands at the counter. ...I'm thinking that she really does look sort of like me! I'll keep you posted with my customers comments and urge them to go to your site and see the rest of the story! thank-you. Kate LamontagneI have not been fortunate enough to bump into any of your paintings, but being a very active random-smiler myself, I can only sympathize with your efforts!!! I was once in the odd position of having to get rid of 3 beautiful roses whilst in the street and it proved hard work...    leave alone people around here don't smile at each other, a lot of them even have troubles receiving a free flower from a stranger! keep up the good work and harvest lots of smiles! Pepita I am really glad I met you too! I love what you're doing - Ross and I couldn't stop talking about it. I think Paula, the girl who found your painting here, is sending in a picture. I will as soon as I can too. Keep in touch! Susan, a co-worker of Paula (painting #16). I met Susan during the Dorchester Open Studios--purely accidental, completely wonderful!... My sisters flipped over it (they loved it and the idea). I'm thinking of bring it to work and putting it in my cubicle and see what happens. I have been smiling at people and saying "hello"...Amy Jean, painting #20 Thank you so much for painting...#28, I love it! I brought it home yesterday, to the delight of my children and husband. When I find the appropriate space to display it, I will send a picture. All the best to you and your project and thanks again! ElaineI found your painting (#16) yesterday and everybody in the office where I work, including myself, loved it. I'm going to keep your work and bring it to Washington, DC with me when I move there in 2 weeks. It's going to serve as my good luck charm. I think what you're doing is a great idea. I too think people in Boston aren't friendly enough. So keep up the good work!!! Thanks for making me smile. Best Wishes, PaulaHi Smileyb, I do not know your real name. Thank you for the painting (from my new series of work, 10.21.03). It is absolutely beautiful, I love your art. I think it is so funny, cute, colorful and full of life. Angelai didn't pick up your painting (#26), but my friend barry did. it really made his day, and at a time when he needed a smile. thank you. i think this is a wonderful project. barry just got the picture today, and is at dinner now, but i am going to call him and tell him to be sure to log on and tell you his story. good luck with this, and thanks again... :) rachelThe painting (#17) is very beautiful, and every single employee who looks at it Smiles. We think that it's a great idea to have done something like this. Martine and the Central Square BranchAn awesome gift from a couple of Smile Boston Project recipients (they know that I am crazy about the Soul of Chogokin robots) >>>See additional feedback >>>