The GoFundMe fundraising for the 20th Anniversary of my painting giveaway project >>> Here's the list of countries I need to reach >>> The paintings have been given away in over 80 different countries and in all 50 states (see destination list >>>) See the yearly "BEST OF" feedback winners >>> Watch a really moving video feedback from a painting recipient >>> My Kickstarter fundraising for the 10th anniversary of my street art project went beyond 300% of its goal >>>
Below are photos of where the paintings have been given away around the world and feedback from painting recipients. I took a break from giving paintings away during lockdown. I don't think people were willing to take random items in public during the
height of Covid 19 :)

May 2023 to present: Algeria >>> Algeria >>> Armenia >>> Bangladesh >>> Barbados >>> Belgium >>> Bosnia and Herzegovina >>> Bulgaria >>> Cape Verde >>> Colombia >>> Croatia >>> Cuba >>> Cyprus >>> Denmark >>> El Salvador >>> Ethiopia >>> Georgia >>> Ghana >>> Ghana >>>Luxembourg >>> Malta >>> Montenegro >>> The Netherlands >>> Nigeria >>> Palau >>> Romania >>> Rwanda >>> Tanzania >>> Vatican City >>>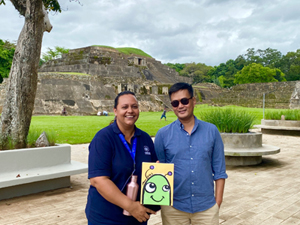 November 2023: El Salvador >>>

August 2023: United Kingdom >>>
July 2023: Bay Area, CA >>>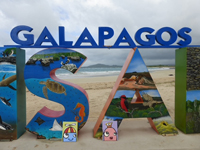 April 2023: Galapagos Islands >>>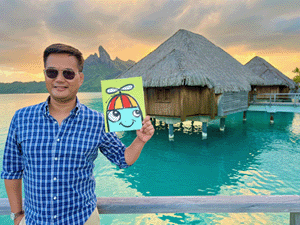 March 2023: Tahiti and Bora Bora >>>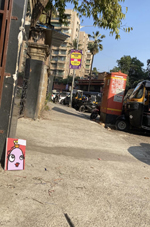 February 2023: India >>>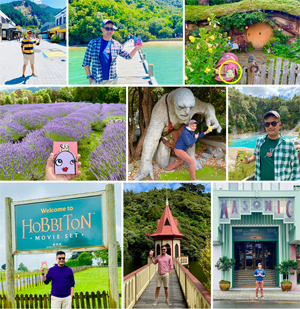 January 2023: New Zealand >>>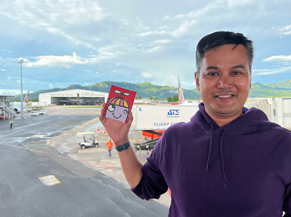 January 2023: Fiji >>>



December 2022: Las Vegas >>>
I received this message on October 8, 2022: Hi Bren..I found one of your paintings on a cold November day at Edinburgh law school in 2004. I was feeling really depressed and miserable, I hated my law course and was struggling with life. When I saw a spot of colour in the grey courtyard I went to investigate. "This painting is yours if you promise to smile at random people more often". I put it down again. I couldn't promise that, I said to myself .... I walked on embracing my misery till my spirit rebelled and I recognized the universe was inviting me to live and feel differently. I returned...and I did promise. And I smile, very often at random strangers. Thank you so much for your joyous, life affirming art. It meant so much to me at a very difficult time. Wishing you blessings, and good health. Jamie

September 2022: Spain, Portugal, Amsterdam, France and Gibraltar >>>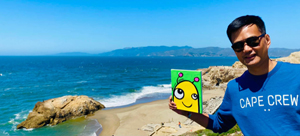 August 2022: Bay Area, CA >>>
July 2022: Hudson Valley, NY >>>
June 2022: Painting Giveaways >>>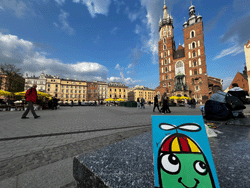 May 2022: Poland >>>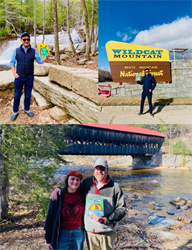 April 2022: New Hampshire >>>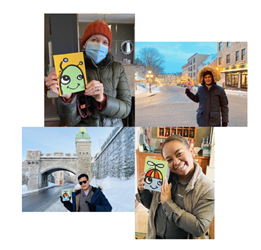 February 2022: Quebec City, Canada >>>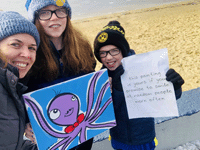 January 2022: The lake is one of our favorite places and finding your painting there today felt so special. Amidst the chaos of the holidays and the stress of COVID, it is such an amazing reminder that something as simple as a smile can make a huge impact. Thank you for spreading your message of kindness our way! We plan to hang it over our porch door to remind ourselves as we leave to pass on your message of kindness to those we meet. All the best! Meghan >>>
January 2022: This painting was found in Los Angeles in 2015 (The painting recipient shared the photo with me this month).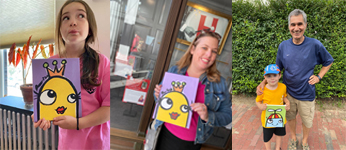 Fall Massachusetts 2021 Giveaways >>>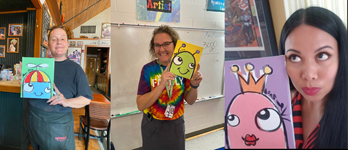 Spring and Summer 2021 Giveaways >>>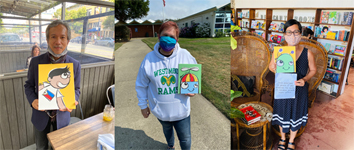 Summer California 2021 Giveaways >>>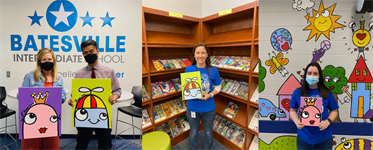 Spring and Summer 2021 Giveaways >>>
June 2021: Provincetown, MA >>>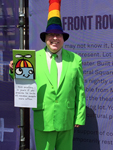 June 2021: Cambridge Pride >>>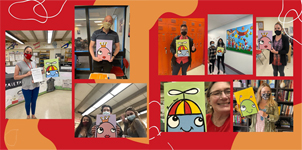 May 2021: Burlington High School >>>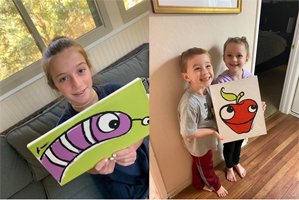 Fall 2020 >>>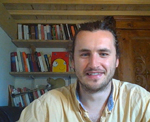 June 2020: Hi Bren.... I always wanted to write you, but somehow things always got in the way. I found your painting in 2008 in Chicago in front of the George Washington Library. Back then I was doing a community service in a homeless shelter. I'm originally from Germany, so I took it back home. There the painting disappeared for 8 years, because someone mistakenly took it, because it looked nice. I just found it 2 years ago at a friends place. Now it's back with me. Thanks so much! Cheers, Chris >>>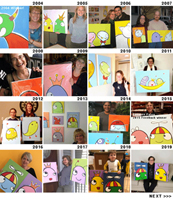 March 2020: See feedback winners from 2004 to 2019 >>>

February 2020: Bahamas >>>
January 2020: Sri Lanka >>>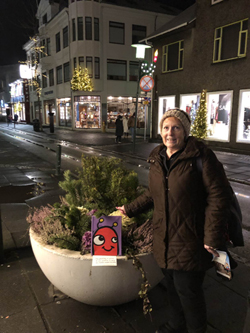 December 2019: Iceland >>>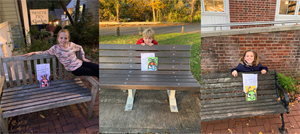 Fall 2019: Morocco, Portural, New York and North Carolina >>>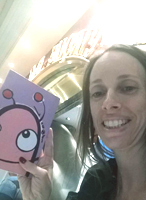 Las Vegas, NV, Summer 2019. Las Vegas was wonderful. LV Market was its usual amazing experience with my magical unicorn family in the Wild Rumpus Room. But this trip will aways be my favorite. I saw an Instagram post on Sunday from mine and Zane's favorite artist, @brenbataclan. He had placed one of his paintings in Vegas and I was on the hunt! The magic, generosity and smiles that he puts out into the world makes this a better place. I will be passing on the love and generosity for sure. Zane lost his mind last night when I pulled the painting out and told him the story. A side note: What makes this story even more amazing is that I painted a mural at Zane's school in Raleigh, North Carolina. What were the chances of this family finding a painting in Las Vegas? >>>
Half Moon Bay, CA, Summer 2019. Hello. I was walking in the Fitgerald Marine Reserve, SanMatao County Park, and found your painting. Were you the guy with bare feet who smiled at me? Just wondering. I brought the painting on my flight to Chicago to give to my daughter. I wondered if we should leave it in the Petrifying Springs Park in Kenosha, WI, near where we live but she wants to keep it. I love your Smile Project Regards, Joan>>>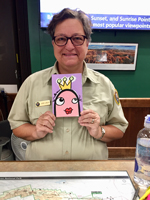 Bryce Canyon, UT , Summer 2019. Hoodoo you love? I cannot thank you enough for your kindness of bestowing upon me one of your paintings. With my nickname being Dairy, "the Queen" painting was so appropriate for me. You are an amazing man; I am glad our paths crossed. P.S. Loved the TED talk. You made me cry (again). Adair >>>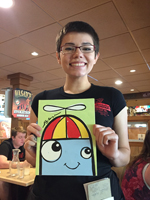 Mount Carmel Juntion, UT , Summer 2019. My boys love it so much! As soon as I brought it home, one on my sons said, "Mine, mine!" We hung the painting immediately in his room. Thank you!!! >>>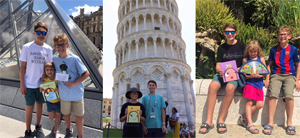 Summer 2019. International >>>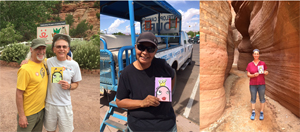 August 2019. Northern California >>>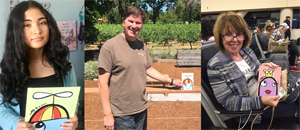 July 2019. Northern California >>>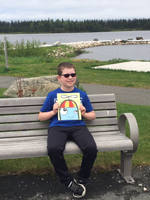 June 2019. Newfoundland, Canada. Our son Ryan (age 9) found one of your paintings at Cobbs Pond Rotary Park, Gander, Newfoundland after a big rain storm. He absolutely loves it and was even more amazed when we showed him your website. What a great project! Smiling back at you from Gander, Newfoundland. Jim & Krista >>>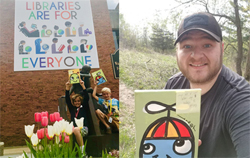 May 2019. La Crosse, WI >>>

May 2019. Burlington High School >>>
April 2019. Slovenia and Hungary >>>
April 2019. Geogria and South Carolia >>>
April 2019:
Hi Bren,
I just wanted to say thanks for the painting....10 years later! I found one of your paintings on Mass Ave. in Indianapolis, IN back in 2009. My friend and I passed it back and forth for years while we were away at college and after. I just recently rediscovered it and the web address on the back (can't believe I never looked it up before--what a cool project!). Anyway, thanks for the art.
Take care,
Hannah
April 2019. Kashmir >>>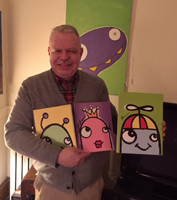 March 2019. Ecuador >>>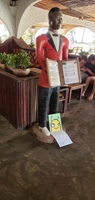 February 2019. Ivory Coast >>>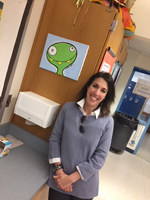 February 2019. Spain >>>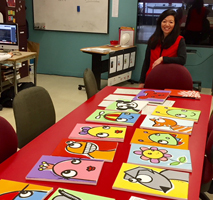 Januray 2019. Burlington, MA >>>
Fall 2018. Liechtenstein, Australia, Honduras, France, U.K., Amsterdam, Switzerland and Germany >>>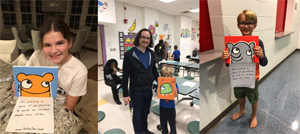 October 2018. Raleigh, NC >>>
September 2018. Massachusetts >>>

August 2018. Northern California >>>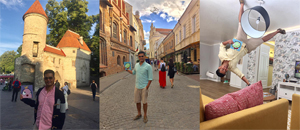 July 2018. Lithuania, Latvia, Estonia and Finland >>>

June 2018. Girl Scout Troop 664 gave away paintings in France, Italy, Switzerland and The U.K. >>>
May 2018. PRI's The World Painting Recipient: I received your painting today. Thank you so much for sending it to me. I really appreciate your generosity giving it to me, and also your generosity with all the others with whom you share your art. I am still trying to help Henry get his Social Security Benefits that he has earned. There must be a way... The real reason I posted in your contest was to see if someone out there could help him. Thank you for the painting; I love it! Best, Ruth Deakins >>>

April 2018. New Mexico >>>
April 2018. Washington State >>>
March 2018. Uganda >>>
March 2018. South Africa >>>
February 2018. Aruba >>>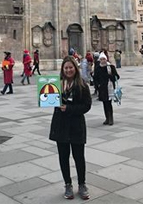 January 2018. Vienna, Austria painting giveaway >>>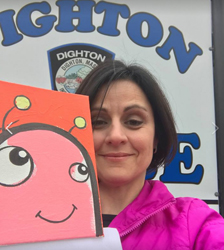 December 2017. Dighton, MA painting giveaway >>>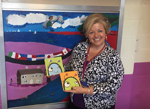 November 2017. Wareham and Martha's Vineyard painting giveaway >>>

October 2017. Raleigh, NC painting giveaway >>>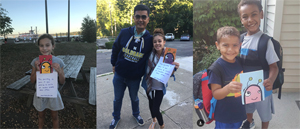 September 2017. Newburgh, NY painting giveaway >>>

August 2017. Northern California painting giveaway >>>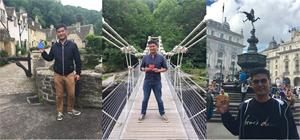 July 2017 Wales, U.K. painting giveaway >>>

Summer 2017. Washington D.C. and Maine painting giveaway >>>

July and August 2017. 30 kitty paintings will be given away in Wales and California >>>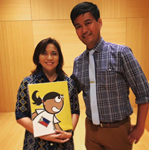 June 2017. I met and gave a painting to the Philippine Vice President, Leni Robredo >>>
June 2017. China >>>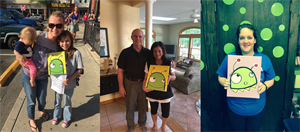 May 2017. NJ, NY, NC and MA >>>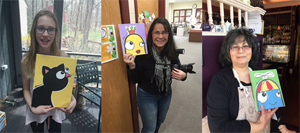 April 2017. Massachusetts >>>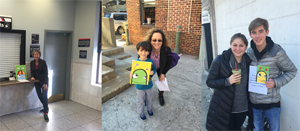 March 2017. Summit, NJ >>>

February 2017. Turks and Caicos >>>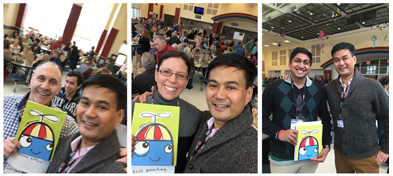 January 2017. Folks who found paintings at TEDxNatick (I was one of the speakers) >>>
See additional feedback >>>